Joe Mattison, bricklaying apprentice at Springvale Homes Ltd
Seventeen-year-old Joe set his heart on a career in bricklaying after going to a College Open Day organised by his school.  He remembers: "We got to look at a whole range of trades, but bricklaying grabbed my attention and refused to let go!"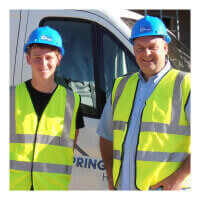 A friend of Joe's father was already working for Springvale Homes and made some enquiries and as they say, the rest is history . . . with Joe now enrolled on an NVQ Level Two in Bricklaying at Bridlington's East Riding College.
During the start of his apprenticeship, Joe has been working mainly on a bespoke house building site in Hunmanby, just outside of Scarborough. "It's really satisfying to make sure the brickwork looks spot on," he says. "I also love the camaraderie with my workmates. The cold winter mornings came as a huge shock to the system, but now I've survived my first winter, I think I've acclimatised to the seasonality of the trade."
Springvale Homes, established in 2007, specialises in building individual homes, extensions, and alterations for clients in the local area, giving Joe a variety of opportunities to develop his skills. Managing Director Tom Hart says: "Joe is doing very well. He's made great progress – maybe we'll buy him some thermal vests so he's all ready for next winter!"
Sam Hoggard, joinery apprentice at Joe Franks Joinery
Sam, 17, is a Level Two Site Joinery Apprentice, currently working on a major housebuilder's development in the Yorkshire seaside town of Withernsea.  The project has enabled Sam to learn the joiner's role on a homebuilding site from start to finish. "So far, we've completed sixteen houses from scratch, including floor joists, roofing trusses, first-fix joinery and second-fix joinery. It's great to see the process and be able to look at a house and know I helped to build it."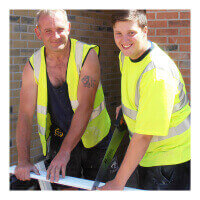 Employer Joe Franks adds: "Like many youngsters, Sam's not so keen on the days when it's raining or really windy. But he's learned there's always work to do indoors, such as installing a staircase or fitting skirting boards. Mind you, on a fine day in July, it's good to go inside just to cool off – and that's something you don't say too often!"
"Getting people who are really interested in the trade and willing to learn is the key to getting a good apprentice – as is finding someone you can work closely with," Joe continues. "I've been in the trade for twenty-five years and seen apprentices come and go.  Sam's got a great attitude and I predict a great career for him!"
Archie Barnes, plumbing apprentice at Nigel Barnes Plumbing & Heating
Meet Archie Barnes.  Once a week he's at Scarborough's Yorkshire Coast College on the Level 2 Plumbing Apprenticeship Course, and the rest of the time he's learning the plumbing and lead work trade – taught by his father, Nigel.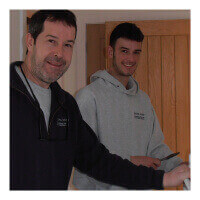 Nigel himself started off on a Youth Training Scheme and is proof of this year's National Apprentice Week theme:  'An apprenticeship can take you anywhere'.
"In my case, as with so many others, a traineeship was the way for me to realise I had the skills and determination I needed to set up my own business," Nigel says.  "It's great that Archie wants to follow me into the trade, and this is an excellent opportunity to future-proof our family firm."
Lately, Archie has been learning how to restore the lead work on a local church.  He says:  "We live in a conservation area, so these skills are important.  It's essential they are passed from one generation to the next, and I'm really enjoying learning the finer points – and secrets – of my trade."
Once Archie has completed his training, Nigel is contemplating returning to college himself . . . but this time, as a tutor, as his way of giving something further back to the industry.
Ryan Gray, joinery apprentice at Keith Gray Joinery Ltd, Driffield
Ryan Gray attends East Riding College in Bridlington on a Site Joinery Apprenticeship.  He knows his new boss pretty well . . . having followed his father Keith into the family business.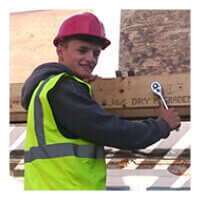 Keith has been in the industry for over thirty years, starting out as an apprentice in Driffield, East Yorkshire.  He said:  "When Ryan showed an interest in following me into the business, I thought it was time to find out how to take on my first apprentice. That was when I discovered we were eligible for help from Hudson Contract.  It's great to know Ryan the family business will continue.  Joinery is an excellent trade to get into, and having an extra pair of hands around is a great help, too."
Ryan says:  "I love being an apprentice and learning from my dad.  I particularly enjoy the variety of work I get to undertake.  So far I've built kitchens, roofs, and installed new floors."
Danielle Sharpe, plumbing apprentice at Craig S Butcher, Scarborough
"At school, I never imagined my future lay in plumbing!  I'd thought about construction, but my lack of knowledge of tools and the thought of embarrassing myself deterred me.  By my step-dad is a self-employed plumbing, heating and gas engineer.  He motivated me to go for it and I've never looked back.  I feel like I'm moving from strength to strength and learning so much every day.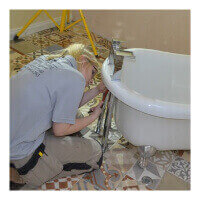 I still love my makeup and buying new clothe, but I now spend a huge amount of time looking at tools.  I know how to use them properly, too.
The best part about an apprenticeship is having the best of both worlds, going to work and gaining experience of the trade while also attending college and learning important requirements such as the legislation and legal requirements that lie behind everything that is done.
To anyone undecided about going into construction I would just say to go for it and take the plunge.  It really is rewarding."