Our Great Cash Giveaway Sets New Payout Record
There's free money on the table from Hudson Contract – and it could be yours, simply for doing a colleague or a contact a good turn!
So far this year, our Rewards Scheme has paid out £32,236.64, shared by sixty-eight of our clients and accountants operating in the construction sector.
Latest giveaways include:
Our biggest-ever Reward of £3,995 claimed in the past month, a construction company in Southampton that referred a utilities company to us
Largest 2014 Accountants' Reward of £2,256 paid out to a firm in Wiltshire that referred a client that specialises in stone masonry
Wine, wine and more wine! Over 10% of Rewards winners have opted to take their payout in the form of wine, with classic French reds and bubbly being the favourites.
Hudson Contract chairman David Jackson observes, "Our other options of theatre tokens, and the recently added Virgin Vouchers are also going well with everyone that refers, but cash is still very much king."
Regional Split: Where is the Free Money going?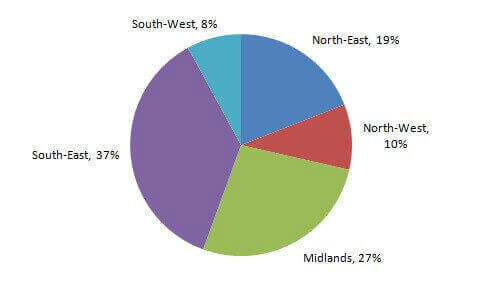 At present, most of our referrers are based in the South-East and the Midlands. But there is still everything to play for.
Who could you refer?
David Jackson continues: "Hudson Rewards is our way of saying thank you to clients who value our service enough to recommend us. If you know of a construction firm that is CIS registered, then that business is eligible to join the Hudson Contract family and get all the benefits that come with that status.
"So much of our business comes by recommendation and word of mouth. We'd much rather reward our clients than spend money on advertising and marketing campaigns, so it's no exaggeration to say we thoroughly enjoy writing Rewards cheques. The more the better, because it means our existing clients are giving us a big thumbs up."
Two simple steps to payday
To put yourself in the money all you have to do is:
Mention to your friends, family and contacts that you're a Hudson Contract client and the advantages of being with us, and let them know you're going to pass on their details, so they're expecting to hear from us
Then call us on 0845 643 5289 or email us with the details of whoever you want to refer – and to see how much you can earn. We'll let you know how we get on and hopefully be contacting you and asking how you would like to spend your Reward.
Important: If you know of CIS registered construction companies that are NOT with Hudson Contract, please also forward this article to them