We're extending the facilities at the Hudson processing office in Bridlington by adding an extension of 100 square metres to our offices. The increased facility will give us a new kitchen, proper break-time space and better meeting facilities.
Progress throughout January has been good: the foundation has been dug, formed and cast despite the winter weather.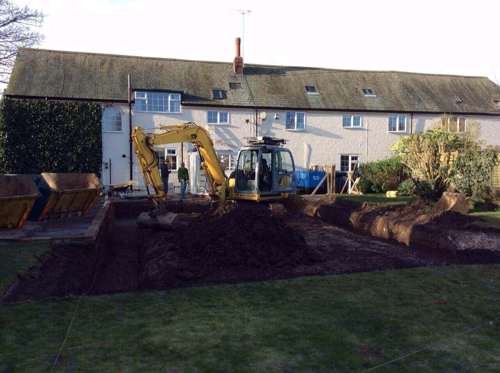 The groundworkers are a gang of three, local to Bridlington, and what has been really impressive is their commitment to getting the foundation in and completed by the end of January.
But then, they are self-employed (as you would absolutely expect of Hudson Contract!) and able to decide and make their own commitments, which included completing another foundation before the Christmas break, taking time off until 5th January, and then getting straight back to work.
They have worked through some pretty bleak, wet and snowy days to get the job done and as I've pointed out to all the Hudson Contract processing staff who see the work in progress from their windows, "These are the very guys we pay every day of every week, and these are the conditions in which many of them sometimes work."
We didn't ask the groundworkers to commit to a quoted price; instead, we paid them for each day's work – which on many days meant working through to finish a task before leaving for home to get dried off and warmed through.
However, the steel fixers who came in to place and tie the re-bar in preparation for the foundation to receive concrete did come in on a price.
They were a specialist pair, qualified and experienced and knowing the tonnage and specification, had no hesitation in working to a fixed price.
Having worked from Monday to Friday for a main contractor some 30 miles away, they came to our site on a Saturday and finished early the following Monday. In their words, "Snow can halt a job any day at this time of year. So if the work is there and we can get on, we'll take the money"
Two days after the steel fixers finished, the groundworkers came back for the concrete pour: 38 cubic metres went in using a pump and despite intermittent rain and sleet, the pour was finished by lunchtime when I brought the lads some well earned fish and chips.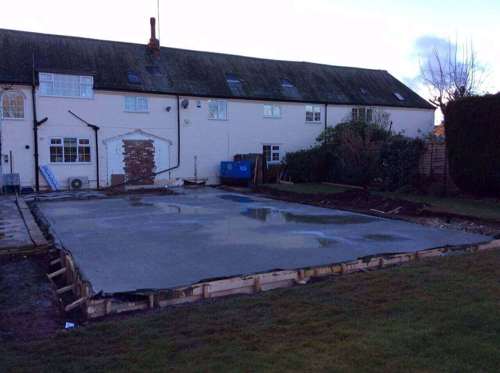 Which brings me to the politics of this view on the construction process.
Some politicians on either side of the House believe that many building workers should be employed by construction firms, and if engaged by 'intermediaries' then taxed as employees under PAYE.
There is a misconception of false self-employment when there should be an appreciation of freelance builders.
A shame, then, that our politicians don't pay more heed to Professor Andrew Burke's analysis of the benefit to the UK economy and to the construction sector as a whole.
If there are any doubts, it would be a pleasure to take them onto a site to take a close look at the construction process and the decisions taken by those who make their own way in this world.
Self-employed builders stick to the task and get the job done. They pay the correct tax and 90% have their tax deducted at source.
Equally vital, they should be appreciated and encouraged, and not labelled as tax dodgers.
We'll let you know how the works progress. And meanwhile, if there are any politicians reading who'd like to accept my invitation to 'Come See', it would be a pleasure!