"There's no doubt about it, 2013 was definitely a better year for freelance builders," declares Hudson Contract Managing Director David Jackson. "Average earnings for labour-only subbies across the country increased by over 12%, well above inflation for the first time in many years."
As you can see from the chart below, the Midlands led way with an increase of just under 20%, followed by the South-East and North-West up 13%, the North-East with almost 10% and the South-West with over 8%.
Freelance builders everywhere enter 2014 on average earnings of over £600 per week, while those in South-East England remain on the highest rates, as you would expect.
The graph below shows the peaks and troughs throughout the year.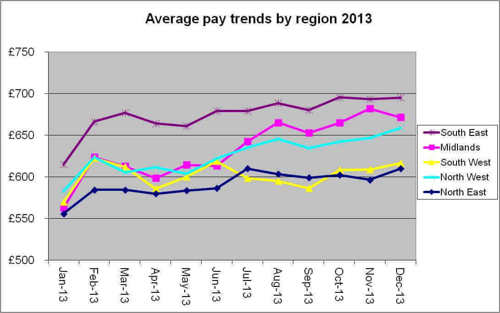 2013 Winners
In terms of individual trades those whose annual earnings soared highest are:
Bricklayers +26.2%
Joiners +24.7%
Scaffolders +22.0%
David Jackson adds: "Only shopfitters saw their earnings stay flat during 2013, but hopefully that will change now, with construction's commercial sector, which includes retail, forecast for significant growth in the months ahead."