As senior accountant at Hudson Contract, Marc Chapman helps our clients stay compliant with complex tax laws and is a big believer in apprenticeships for learning and earning on the job.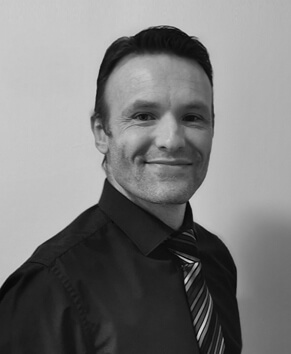 What's your role at Hudson Contract and how do you help clients?
I'm senior accountant and I head up our accounts department. For a £1.9 billion-turnover company with 2,500 clients, we are not a big team. Unlike large accountancy firms in London, we don't have office blocks full of people.
We make sure that CIS, VAT, PAYE and national insurance contributions are recorded and calculated correctly. We pay HMRC and make sure operatives get their net payments. It's essential work!
With more than two decades of experience, I've developed a good understanding of client needs and the ability to explain complex issues. For example, some clients have struggled to understand the VAT domestic reverse charge and weren't getting anywhere with HMRC. I was able to explain how it works and who and how they should invoice.
What is your background and career journey?
I grew up in Bridlington, went to the local comprehensive school, did my A-levels and fell into accounting at a local firm. I studied for my AAT qualifications on day release and progressed to a bigger firm, Lloyd Dowson, where I started doing VAT returns, bookkeeping, accounts preparation and auditing and studied for my ACCA qualifications, which are based on accounts practice.
As a chartered accountant I moved to the East Riding of Yorkshire Council and spent 12 years as a senior accountant at this large organisation with lots of departments and customers, specialising in VAT accounting. I joined Hudson Contract in 2015.
I believe work experience is invaluable. Learning on the job while getting paid is a win-win. With my career journey, I can vouch for it first hand. This is why I am a big fan of Hudson Contract's sponsorship scheme for apprentices, which is helping so many young people to get a foothold in the construction industry and learn new skills.
What do you like most about working in the construction industry?
At Hudson Contract, we help our clients to be compliant in a very complicated landscape of tax and employment legislation while paying operatives the money they are due. If I can help clients understand issues that HMRC has made daunting and confusing, then I have done something right.
It's always been important to me to see the whole picture and it's satisfying to see the outcome of the processes that we have put in place.
Tell us about your hometown
Bridlington in East Yorkshire is a really picturesque place to live, with beaches, cliffs and cricket. I like to enjoy a cold beer on the seafront. 
What do you like to do outside work?
I'm actively involved in local sport. Having played rugby union for many years and snapping various hamstrings and muscles, I now fulfil the role of finance director of Bridlington Rugby Union Football Club. I manage my son's football team, the Bridlington Rangers Titans, and am a member of the club's executive committee. I also love to support my daughter's sporting endeavours and amateur dramatics. As a family, we like watching movies together.