Hudson Blue – which is part of the Hudson Contract family – has has been recognised on a prestigious 'Roll of Honour' that recognises the country's fastest-growing and most dynamic small and medium sized businesses (SMEs).
Companies selected represent over forty business sectors and span every region of the UK.
Hudson Contract Chairman David Jackson says:  "This is an excellent surprise.  Hudson Blue offers a bespoke contract to a specific category of self-employed people, and it has earned its place on the list by demonstrating positive revenue growth over the last three years and outperforming our industry peers.
"Our inclusion reflects the hard work and dedication of our staff, going the extra mile for clients. And it also benchmarks our service against others who claim to be 'Just like Hudson' but are – at best – an inferior version.  Hudson Blue works hard to support other SMEs and the self-employed, who drive growth in the construction industry.  We want their importance and contribution to be understood – and appreciated – at policy-making level, and this is another great step in the right direction."
David Schwimmer, CEO of the London Stock Exchange Group CEO offered his congratulations, adding: "We believe that supporting the growth of these businesses is critical to the UK economy and the creation of a society that works for everyone."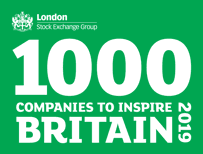 Read the full report here