Our World Cup giveaway was almost as fiercely contested as the competition itself, giving the judges a tough task to decide who should win the £1,000 worth of kit on offer.  "But in the end, our decision was unanimous," says Hudson Contract Chairman David Jackson.  "And the prize is going to Kingfisher FC."
Kingfisher FC was nominated by our client RM Contractors, of Redditch, whose Accounts Manager Katie Edwards explained in her entry:  "We're a fairly new club, set up by myself and my boyfriend Liam, last year.  We felt girls weren't getting enough attention at other clubs where we'd been involved, because all the focus was on the boys, so we decided to create the only girls-only club in Redditch.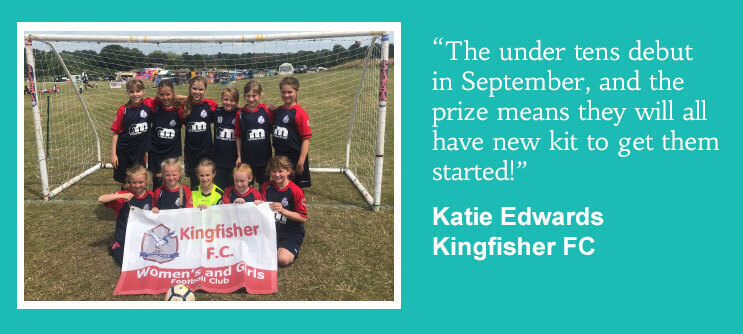 "Since then, we have worked tirelessly once the day job is over to help build the club.  Our aim is to develop girls football and give everyone the best possible experience in a safe environment, having fun, developing their skills and making lifelong friends.  One year on, and we now have a development centre for girls aged 5 – 11, and U10, U11, and U15 teams, plus a ladies adult team.  The under tens debut in September, and the prize means they will all have new kit to get them started!  We are delighted to have won."
David Jackson adds:  "It's not so long ago that girls' football didn't get a look-in.  But of course the times are changing – on the pitch and in the construction industry itself.  Three per cent of the apprentices we've sponsored at Hudson Contract are women, and we now engage a few female operatives. . . just a handful, but it's a number that is definitely going to grow."
The standard of entries was so high, we decided to add three extra prizes:
MIDDLEWICH TOWN UNDER 8s:  Entered by Sharon Messenger, PBS Properties, Crewe
"We have a team of 21 players aged between six and eight.  We had an amazing first season, but now our teams have had to split, with the older boys moving up to the Under 9s team. We have three teams in the under 8s and need a sponsor for new kits this season. We have already raised £250 from fun days, race nights and football cards and committed lots of hours to fundraising.  But the new kits are very expensive, so as things stand at present, some are looking at playing in hand-me-downs this year.  It would give all the players and managers a real boost with a new kit, and I know it would mean a lot to the boys and their parents."
BROMHAM YOUTH AFC U8s: Entered by Des Alexander, Thunderbolt Scaffolding, Bedfordshire
"My son joined our local village team in September 2016 because his school had no football team.  After a series of heavy defeats, myself and one of the other dads stepped up and are now FA Level 1 coaches, running the team.  We still haven't won any games but been close a couple of times, and it doesn't matter to us because everyone is having fun and helping one another to develop.  If we won this competition, we would use the funds to provide indoor training facilities for the winter part of the season."
ST IVES RANGERS UNDER 16s:  Entered by Marina Hilton, P J Doyle, Cambridgeshire
"Our team, nicknamed The Black Sox, are a group of Year 10 boys, who didn't win a single match last season – and finished bottom of the table!  However, they are a group of lads who turn up for training every Thursday evening, come rain or shine, and undeterred by their last result.  The team is managed and coached by two parents whose only expectation is that the boys give one hundred per cent and enjoy football.  They never put any pressure on the boys, giving up their Thursday nights and Sundays to encourage and teach the team.  This season, almost all the boys want to continue, even though it's GCSE year, so to win the competition would be a huge boost, as it would recognise their commitment to their team."
Thank you to everyone who entered the competition and we wish all teams the best of luck for the season!