APPRENTICE SPONSORSHIP SCHEME UPDATE
Last year, we expanded our apprentice sponsorship scheme to include Leeds College of Building, the UK's only specialist construction college, which is at the forefront of apprentice development and currently helping 6,500 students build their careers.
Many of the College graduates are now running their own businesses – among them, Mark Jones, who started out as a shop fitting apprentice.  He says:  "I combined my College training with working for our family business, and now, more than seventeen years on, here I am with an apprentice of my own!"
The firm – RG Building Services (Leeds) – was handed down to the next generation – Mark and wife Katie - earlier in the year.  Katie takes up the story:  "Having made the decision to invest in future talent, the next step was to get in touch with Leeds College of Building, and they made everything easy for us, taking us through the process step by step.
"The first stage was to interview potential candidates – the College helped us set up the appointments – and then we took a couple of their students on a work placement to see how they integrated with our team."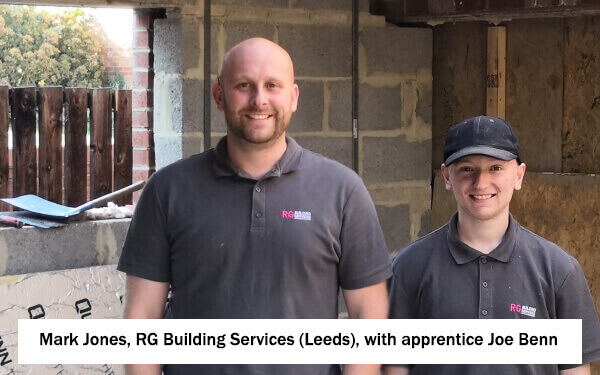 The ultimate outcome? Mark and Katie chose 18-year-old Joe Benn to become RG's first apprentice.  "And we hope many more will follow," laughs Mark.
Joe says:  "I'm enrolled on a Site Carpentry Apprenticeship and go to Leeds College on Friday, to study the more academic aspects of the trade.  I'm loving getting hands-on when I'm on site, and the fact that every day is different.  Generally speaking, being an apprentice has given me more confidence, as a result of meeting so many different people and learning how to work as part of a team."
Mark adds:  "Taking on an apprentice is a long-term business decision.  In the short-term it costs us money as we can't charge out Joe's time, but to be able to nurture and develop him to be part of our firm will benefit us in the long run.  I also like the fact that Joe gets to learn a lot more than he would if he just went to college.  That makes him even more valuable to us as a small business."
Mark and Katie are so pleased with the way Leeds College has helped them, they are already thinking about another apprentice in the future.  "We're also grateful for the extra financial support that has been provided by the Hudson Contract Apprentice Sponsorship Scheme," adds Katie.
If you're interested in taking on apprentice or just want to find out more, we have created a guide, with some of the common questions and answers – click here to find out more