Construction output is showing a steady increase, and there's starting to be plenty of talk on sites around the country about a 'skills shortage'. So at Hudson Contract, we're proud to report that a grand total of fifty-five apprentices have now been sponsored by our firm – and we are about to make a further major commitment to the future of construction.
More about that in a moment. First, here's a snapshot of what the scheme means to three of the youngsters we've sponsored – and the construction firms they work for:
1. Apprentice Joe Mattison and Tom Hart, Springvale Homes
Seventeen-year-old Joe set his heart on a career in bricklaying after going to a College Open Day organised by his school. 
He remembers: "We got to look at a whole range of trades, but bricklaying grabbed my attention and refused to let go!"
A friend of Joe's father was already working for Springvale Homes and made some enquiries and as they say, the rest is history . . . with Joe now enrolled on an NVQ Level Two in Bricklaying at Bridlington's East Riding College.
During the start of his apprenticeship, Joe has been working mainly on a bespoke house building site in Hunmanby, just outside of Scarborough. "It's really satisfying to make sure the brickwork looks spot on," he says. "I also love the camaraderie with my workmates. The cold winter mornings came as a huge shock to the system, but now I've survived my first winter, I think I've acclimatised to the seasonality of the trade."
Springvale Homes, established in 2007, specialises in building individual homes, extensions, and alterations for clients in the local area, giving Joe a variety of opportunities to develop his skills. Last year, the company won a Build of Excellence Award from the Local Authority Building Control. Managing Director Tom Hart says: "Joe is doing very well. He's made great progress – maybe we'll buy him some thermal vests so he's all ready for next winter!"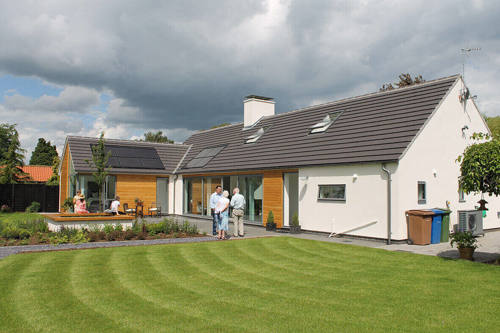 2. Apprentice Tom Bennett and Michael James, J&C James
Tom Bennett got more than he expected when he was hired to do some casual work for family firm J&C James. Owner Michael James worked with him on site laying a new driveway for a client – and offered Tom the chance of an apprenticeship.
Tom, 25, is now enrolled on a Level Two Apprenticeship in Multi-Trade Repair
and Maintenance which covers carpentry and joinery, painting and decorating, plumbing, drainage, wall and floor tiling, plastering, roofing and bricklaying and stonemasonry.
"It's the variety that's so appealing," Tom says. "And the same goes outside the classroom, because so far with J&C James, I have helped install a floating floor, erect scaffolding and assisted with an extension."
Boss Michael James is delighted with Tom's progress. "He's hard working and fits in with well with the team. Getting the right personality is key to a small business taking on an apprentice. Every day there are different things to do. Some you will like, and others that are not as exciting, so it's getting someone who understands this and is willing to put in the time to learn. Tom fits the bill perfectly. And having invested our time in teaching him a variety of skills, we hope to offer him a long-term career. Our track record in that area's not too bad… our first apprentice is still with us – and he'll soon be celebrating his fiftieth birthday!"
Meanwhile, to help the business further, Tom currently has his sights set on getting his Digger Licence. 
3. Apprentice Sam Hoggard and Joe Franks, Joe Franks Joinery
 "Getting people who are really interested in the trade and willing to learn is the key to getting a good apprentice – as is finding someone you can work closely with," says Joe Franks. "I've been in the trade for twenty-five years and seen apprentices come and go – Sam's got a great attitude and I predict a great career for him."
Sam, 17 is a Level Two Site Joinery apprentice, currently working on a major housebuilder's development in the Yorkshire seaside town of Withernsea. The project has enabled Sam to learn the joiner's
role on a homebuilding site from start to finish is. "So far, we've completed sixteen houses from scratch, including floor joists, roofing trusses, first-fix joinery and second-fix joinery. It's great to see the process and be able to look at a house and know I helped to build it."
Joe adds: "Like many youngsters, Sam's not so keen on the days when it's raining or really windy. But he's learned there's always work to do indoors, such as installing a staircase or fitting skirting boards. Mind you, on a fine day in July, it's good to go inside just to cool off – and that's something you don't say too often!"
Hudson Contract to sponsor another twenty apprentices this autumn
Our apprenticeship scheme will be continuing for another year – and in expanding in a big way, with twenty places available for the new academic year. Managing Director Ian Anfield explains, "We feel privileged to be in a position to be able to help local youngsters and local construction companies.
"As time passes, and our apprentices graduate from college, it is hugely satisfying to know we've played a part in helping them get their feet on the first rung of the ladder – but the real credit must go to the apprentices themselves and the people who work so hard to train them. We're so impressed, that we have decided to expand the scheme in a big way."
Apprenticeships are available to students at East Riding College in Bridlington and Yorkshire Coast College in Scarborough. For further details please contact Fiona Gamwell on 01262 401040 or email fiona.gamwell@hudsoncontract.co.uk