Earlier this year, as part of Hudson Contract's 20th birthday celebrations, we invited clients to 'win' an apprentice for a year, with funding from our sponsorship scheme.  The two winners – Joe and Jordan – are now two months into their training, so we asked them for a progress report.  Here's what they have to say:
Joe Lafbery – H&L Construction Solutions Ltd, Buckinghamshire
"It's easy to concentrate and learn about something when it's what you want to do and what you're passionate about!
Since starting college, my knowledge of carpentry has grown fast.  I've learnt the everyday words and terms for a lot of on-site work, and learnt a lot of the basics that are taken for granted when you work on-site.  That's helped me a lot, because it means I can contribute to the workplace discussions, when I'm out of the classroom and at work.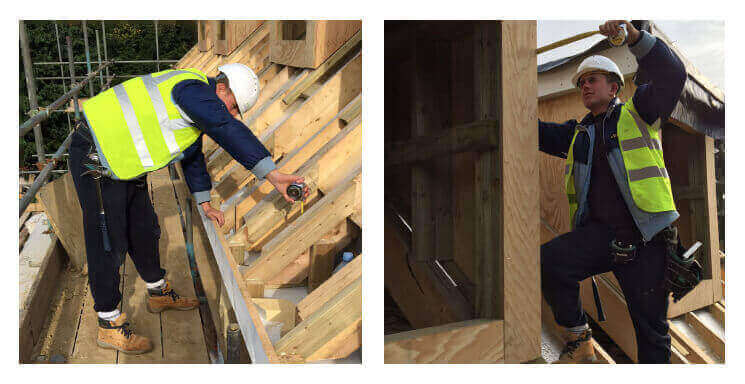 At college, the practical skills we've been practicing include all the different types of joints, which and my hand-tool skills are growing by the week.  On site, we've mainly been on roofs.  Whether it involves installing trusses or doing a hand-cut roof, I'm being trusted more and more to cut and fit. I'm beginning to feel as though it's all starting to come together!"
Jordan Goulding – Matthews & Leigh Civil Engineering Ltd, Lancashire
"I am learning a lot at college, getting properly clued-up about the theory, the practicalities and the realities of construction.  Most recently, we have been studying sustainability in the industry and construction drawing techniques.
"My practical skills are growing, too.  On site, I've been doing flagging, edgings, kerbing and building BT boxes on a Morris Homes project in Lytham St Anne's.   I've also been working on a Wain Homes site in Blackpool, doing concreting.   I am learning new things every day, which means my confidence is growing and I'm looking forward to the more complicated jobs."
To find out more about Hudson Contract's Apprenticeship Scheme and some of the students we have helped over the last five years, click here