Introducing Adam and Dan!
Adam Jenkinson and Dan Harrison are two of the twenty apprentices in Hudson Contract's 'Class of 2017'.  Both from Bridlington, they are in the first year of their apprenticeship with local employers.
Adam got more than he bargained for at B&Q
Adam, 22, is taking his Level 3 Electro-technical apprenticeship at Scarborough TEC.  He met his employer, Sam Connolly of SC Electrical, when both were working at B&Q.
"Sam was in the process of setting up his electrical business, but was working part-time at B&Q until he felt comfortable to go on his own," Adam remembers. 
Sam continues:  "That was four-and-a-half years ago.  Happily, the business took off fast, so when I needed an extra pair of hands, I immediately thought of Adam.  Having worked with him already, I knew we were a perfect match.  And thanks to Hudson Contract, we were able to make it happen."  
Adam adds:  "I'm learning much more and acquiring the skills I need faster than I would in a classroom alone.  We're currently working on a double garage conversion, fitting new lights and sockets.  Sam has instilled into me from the start that I represent his business, and it is essential to finish everything to a high standard, every time."
Looking to the long-term, Sam believes Adam is an excellent investment for his business, enabling him to take time off for holidays while knowing his reputation is in safe hands.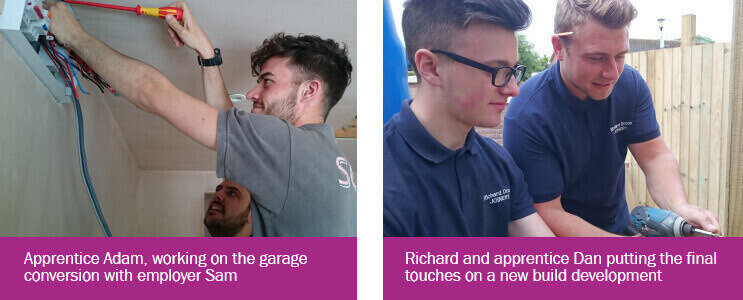 Dan is the picture of a hard-working apprentice
Dan, 17, knew he wanted a construction apprenticeship when he left school and after a brief spell on a general construction course, he transferred to a joinery course at Bridlington's East Riding College.
He says:  "I love photography, and thought about it as a career, but my mum convinced me it would be better to get a real trade first and continue taking pictures as a hobby.  I really enjoy the variety of the joinery work, along with the good craic on site!"
Dan's apprenticeship began last October with Richard Druce Joinery.  Richard says:  "I wanted an extra pair of hands to help with the business so I contacted the local college and they suggested Dan. It is all about getting the right person as we spend lots of time together, and it is working out really well."
Dan is learning a full range of joinery work, from kitchen fitting and staircases, to flooring and fencing. He is currently on his Level 2 joinery and plans to progress to Level 3 in due course.