As always, Hudson Contract is proud to support a variety of local organisations and national charities this year. Here's a quick round-up of some of those we help:
Apprenticeships
The Hudson Contract Apprentice Sponsorship Scheme continues. We are currently giving financial assistance to twelve firms, enabling them to take on apprentices in North and East Yorkshire. Our current apprentices consist of six bricklayers, three joiners and three plumbers. Others who have been through the scheme are now fully qualified and working in the industry.
Bridlington Rugby Club
We continue as a main sponsor of the Club, supporting it financially and donating marketing and design services. This year's focus has been on developing younger players, and Hudson Contract has been funding Youth Development Officer Jack Bell who has been doing a huge amount of work with local junior and secondary schools – where coaching sessions are now run by Bridlington Rugby Club as part of the school games lessons. The Club's junior participation has increased, with teams playing at Under 17s and Under 14s, as well as an expanding section for the youngest players.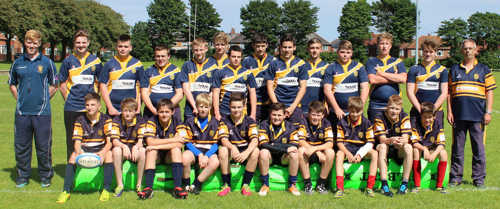 Other good causes
Hudson Contract also continues to support the Fatherhood Institute, and the Bridlington-based ReMarkable Theatre Company.
And even closer to home, instead of exchanging Christmas cards with one another this year, staff at Hudson Contract have been ordering 'Christmas Treats in a Box' – a scheme that ensures money is sent to the charity Action Medical Research for Children, which has played a significant role in many medical breakthroughs that have helped change – and save – the lives of many thousands of children.