David Bradley is Hudson Contract's Director of Operations, responsible for designing our systems and IT security.  Back in the day, though, he cut his computing teeth as a designer and coder of games for the C64 and Amstrad, two computers that were the iPad of the 1980s.
While the machines themselves may be gathering dust in attics across the country, David's games are not forgotten.  This month's Retro Gamer magazine features one of his big successes, a traditional Punch and Judy game, brought to life
"I was the codesigner and coder," David says.  "We developed the game in our home town of Bridlington, so we could use our familiar seafront locations as backdrops to the game."
Now this month's Retro Gamer magazine has chosen to celebrate David, and his colleagues' development of an electronic version of Punch and Judy, complete with sausages and the crocodile. 

Now David and one of codesigners, Dean Hickingbottom, are back together as a team – because Dean is our latest recruit, working – as you would expect – in IT.
"So now we'll have to crank up one of the old computers and show younger members of staff what they've been missing!" Dean jokes.
Meanwhile our internal auditor Tom Cliffe has been getting down and dirty in aid of the charity Meningitis Now. 
"We wanted to do something in memory of a friend, Austin Reeves, who sadly passed away without the virus being noticed," Tom said.  "So along with 16 friends, I entered the Yorkshire 10 Mile Tough Mudder."
Held in Skipton at the end of July, Tom and his team joined thousands of other on the wet and thoroughly muddy course, tackling obstacles and running the full ten 10 miles.
"I recommend everyone to try it, regardless of ability,"  Tom added.  "The atmosphere is great and it was a great way to help tackle meningitis for others."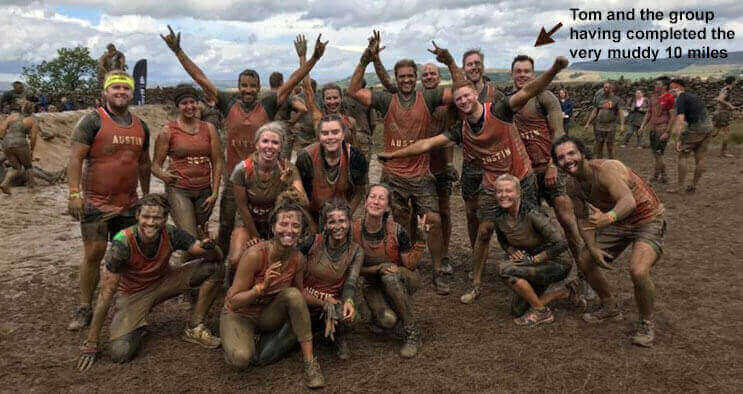 In total, Tom and his friends raised £3,364 . . . and a very large of pile of dirty washing.