Hudson Contract delivers the most accurate indications of pay trends across the construction industry, using payroll data for over 2,200 construction companies to publish the average pay for a spectrum of 17 different trades now split across ten regions.
Appearances can be deceptive . . . especially when it comes to statistics.  Which is to say that while freelance builder earnings plummeted during January – by as much as 20% in the North-East and West Midlands – the headline figure is by no means a signal for bad times ahead.
"Earnings are performing exactly as we expected," Hudson Contract Managing Director Ian Anfield observes.  "Despite what I'm reading elsewhere, the so-called earnings slump is entirely predictable."
The average labour-only subbie earned £829 in January – down sharply from December's high of £932.  "On the face of it, that's disappointing," Ian Anfield continues.  "But in fact, the drop is nothing more than a predictable seasonal trend."
National Weekly Average Earnings January 2019: £829
Region
January 2019 Average
Change from December 2018
North East
£717.00
-20.92%
North West
£761.00
-12.35%
Yorkshire & Humber
£781.00
-11.52%
East Midlands
£850.00
-8.47%
West Midlands
£854.00

-19.79

%
Wales
£786.00
-5.60%
East of England
£883.00
-9.51%
London
£847.00
-9.80%
South East
£835.00
-8.50%
South West
£735.00

-15.92%
To view our interactive pay trends map click here
January Winners: 
Steel & Timber Frame Erection

: +5.92%
The only trade whose earnings have increased
January Losers:
Shop Fitters: -19.92%
But weekly earnings still top £1,000
Surfacing Contractors: -17.67%
A short-term dip as pothole season approaches
Specialist Trades: -16.32%
Quiet January in seven of Hudson Contract's ten regions
While January can best be summed up as 'predictably painful', year-on-year earnings are up 6.27%, which is well above inflation and translates to a weekly increase of £52.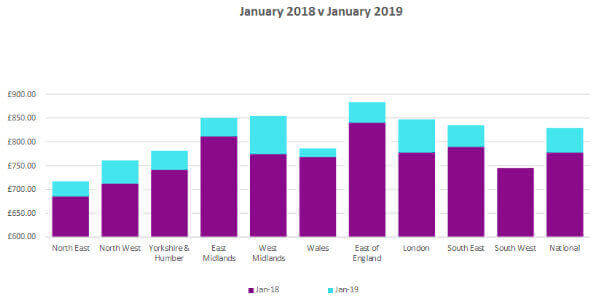 From a national perspective, there is no surprise that this month's IHS Markit/CIPS UK Construction Total Activity Index also shows a January slowdown. 
What is more interesting is that while construction's purchasing managers are blaming the Brexit deadlock for a sharp drop in activity, our own Ian Anfield believes the reason for January's slowdown is far less complex.  "Short working weeks, time off and to a certain extent weather are all factors that come into play for construction in January," he explains.   
"Our unique payroll processing figures indicate that whilst the traditional across-the-board Christmas shutdown happens less than it used to, many clients and their sub-contractors take the opportunity to enjoy a well-earned break and it takes until the end of January for everyone to get back into full swing.  I'm confident the pendulum will swing back the other way next month.  And while I'm not dismissing Brexit fears about projects being put on indefinite hold and EU workers abandoning the UK, I remain confident about the year ahead – as do our clients."
Hudson Contract's 'Window on the Construction Industry' gives you hard figures and data that is not available from any other source, with pay averages that reflect the amounts paid by a sample number of businesses – large and small – to specific trades during January 2019.