Hudson Contract delivers the most accurate indications of pay trends across the construction industry, using payroll data for over 2,200 construction companies to publish the average pay for a spectrum of 17 different trades now split across ten regions.
It's been a sluggish start to 2018 – exactly as expected.
"January's trends are down sharply on December," Hudson Contract Managing Director Ian Anfield observes "But that's what almost always happens in January.  You could even call it a New Year's hangover."
The push to complete projects ahead of the festive break has been a construction industry habit for decades, and then it always takes a few weeks to get properly back to full speed.  "It's been the pattern for the past four years," Ian Anfield continues.  "At first glance a monthly earnings slump of 11.8%, which is what has happened, could be cause for grave concern.  But last year's corresponding figure was earnings down by 13%, so the story that is really being told is about a seasonal trend."
National Weekly Average Earnings January 2018: £777
| | | |
| --- | --- | --- |
| Region | January 2018 Average | Change from December 2017 |
| North East | £685.00 | -6.57% |
| North West | £712.00 | -10.96% |
| Yorkshire & Humber | £741.00 | -11.07% |
| East Midlands | £811.00 | -11.47% |
| West Midlands | £774.00 | -15.76% |
| Wales | £768.00 | +0.65% |
| East of England | £840.00 | -10.36% |
| London | £777.00 | -12.87% |
| South East | £789.00 | -10.41% |
| South West | £745.00 | -11.14% |
To view our interactive pay trends map click here
The Good News
To add further perspective, the average freelance builder earned £24 a week more in January than this time last year.  "That works out to 3%," Ian Anfield says.  "So it's in line with UK inflation."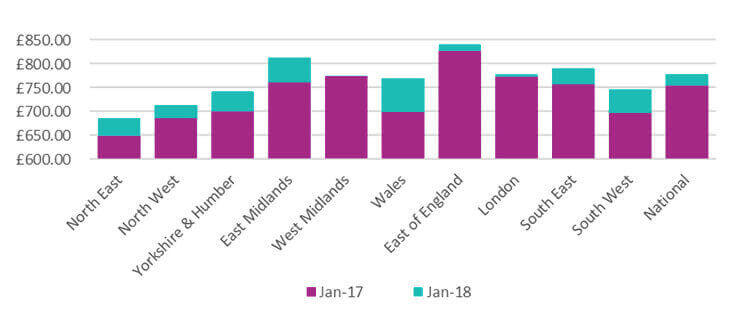 Increased earnings over 12 months – everywhere except West Midlands
It's been a particularly good year in Wales, where subbies have kept well ahead of rising prices, with increases that work out to an extra £90 a week.  Only the West Midlands and London have failed to show significant growth – and in both regions, earnings are, in any event, above the national average.
As to be expected, the latest IHS Markit/CIPS construction survey is cautious, highlighting a 'subdued start' to 2018.  Both commercial and civil engineering showed marginal growth, but house building tumbled.  Despite this, many firms say they expect to win new business during the year keeping the mood of the industry positive.
"Brexit is still the big unknown," Ian Anfield says.  "So much now depends on how the talks go and the shape our future relationship with Europe.  Business craves certainty and construction is no different.  Once it's clear whether it's deal or no deal, everyone can adjust to the situation and start to plan ahead with a measure of security."
Hudson Contract's 'Window on the Construction Industry' gives you hard figures and data that is not available from any other source, with pay averages that reflect the amounts paid by a sample number of businesses – large and small – to specific trades during January 2018.