The UK inflation rate has tumbled to a 14-year low of 0.5%, and the Bank of England thinks it could still fall further.  But what's been happening to subbie earnings during the past twelve months?
Average earnings increased by nearly 11% in 2014:
The North-East and South-East saw the biggest hikes, with earnings up by over 12%
Next comes the Midlands and South-West with increases of over 11%
The North-West is 2014's 'poor relation', with a six per cent increase.
The graph below shows the peaks and troughs throughout the year.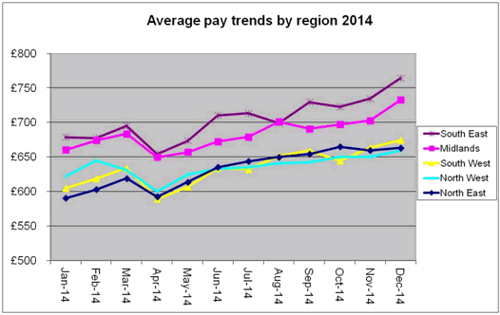 "There's a clear upward trend," observes Hudson Contract Managing Director Ian Anfield.  "And no real surprises in the figures.  As you'd expect, there's a clear differential, with earnings in the South-East and the Midlands higher than in the rest of the country.  All regions ended the year strongly. The lower-earning regions saw an increase of at least £50 a week over the course of the year, while weekly earnings for those in the South-East saw an average increase of double that, thanks to rates taking off between September and December."
2014 Winners
In terms of individual trades those whose annual earnings soared highest were:
Roofers: +22.8%
Bricklayers:  +18.6%
Joiners:  +14.9%
Over half the trades we report on showed increases of over 10% in the last 12 months and only three saw earnings rise by less than 5%: Mechanical & Engineering, Steel & Timber Frame Erectors and Insulation.
Hudson Contract delivers the most accurate indications of pay trends across the construction industry, using payroll data for over 2,200 construction companies to publish the average pay for the full spectrum of 17 different trades across five regions.