Construction companies across the country are staking their claim on Hudson Contract's offer of help with funding the cost of taking on an apprentice – and there's still time for you to take the prize.
As part of our 20th birthday celebrations, we're expanding our Apprenticeship Sponsorship Scheme, which has supported 71 firms in and around our 'home turf' of Bridlington since 2011.  So wherever your firm is based, if you're planning to take on an apprentice this autumn, we hope to hear from you soon.
Entry details are at the end of this article, but first, here's an update from three of the companies – and apprentices – we're already helping: 
Nick Brining – Plumbing & Heating
Nick Brining has almost completed the first year of his apprenticeship with Scarborough-based GasTech, whose owner Paul Exley, explains, it is all about getting the right person:   "We've taken on an apprentice every year for the past ten years, and the support from Hudson Contract means we've been able to extend the opportunity to an extra youngster this year.  We can't charge out our apprentices until they have got two years experience under their belts, but at the same time, it's vital to ensure that as an industry, we look to the future, and train youngsters to come into the trade."
Apprentice Nick adds:  "The variety of work is great – although I seem to be the one who always gets sent under the floorboards or out in the rain at the moment!" 
Toby Traves – Bricklaying
Seventeen-year-old Toby Traves wanted to work rather than stay in education, and followed in his father's footsteps onto a Level 2 Bricklaying Apprenticeship at East Riding College in Bridlington.  That's not where the repetition ends... as Toby is an apprentice for Springvale Homes, where dad Damien is a sub-contractor.
Toby works alongside Joe Mattison, who Hudson Contract helped sponsor last year, and both lads have the same idea when it comes to the pros and cons of apprenticeships.  "Earning money while you learn is great.  But the weather can be a pain." Toby declares. Employer Tom Hart points out that last winter was quite mild, so the worst may yet be in store for Toby!
The apprentices are currently preparing sites and laying foundations for several new-build homes.
Sean Thornton - Electrotechnical
Max Thompson, owner of Yorkshire firm Max Power Electrical, is only 24-years-old – proving age is no barrier to helping other youngsters get that vital first job in construction.  He chose Sean Thornton, 19, who completed his full-time education at college, and then progressed onto an apprenticeship last year to join the business.
Max says:  "I'd steadily built my business and reputation over the past four years, and was looking for somebody to work alongside me.  Yes, I could have taken on an experienced electrician, but many of the jobs I go to need two people, so an apprentice made better sense."
Sean comments:  "Working and learning at same time is the best part of being an apprentice.  I've accompanied Max on all sorts of jobs, from flood-damaged properties in York to completing the wiring for Yorkshire's first malt whisky distillery.  It's hard work and some days are really long, but I know it will be worth it in the long term."
Your turn next?
You don't need to be in Yorkshire to win funding for your own apprentice.  We're offering financial assistance to two firms to help them take on the apprentice of their choice from September this year.  There's just a short form to fill in, and the deadline is 31 July 2016.  Full details are here The competition is now closed.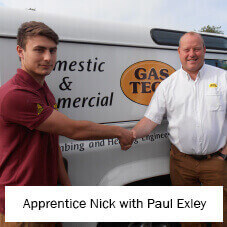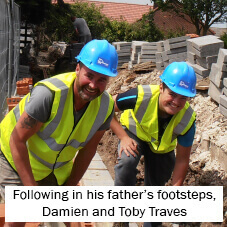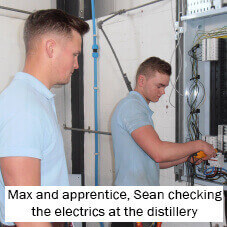 Read more about the apprentices we have supported here