This time last year, confidence was high in construction, with optimism higher than at any time since February 2006.  But did construction actually go from strength to strength? 
A combination of supply chain pressures, skills shortages, economic conditions remaining tough, and the insecurity of the General Election meant that in fact, this past year has seen an undercurrent of uncertainty ripple through the industry.
Against this backdrop, freelance builders increased their earnings by an average of around 8.5% during a year when inflation has been at a virtual standstill, with those in the North doing particularly well:
North-East: +10.17%
North-West: +9.33%
South-East: +8.93%
Midlands: +8.73%
South-West: +5.08%
The graph below shows the highs and lows during the year, with the clear dip leading up to the election.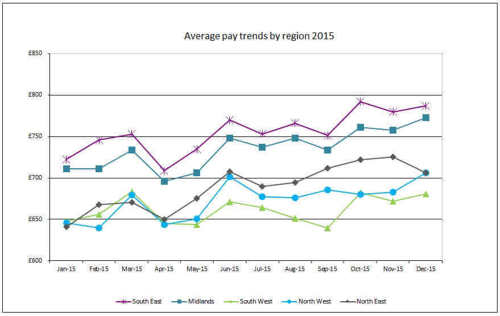 On a trade-by-trade basis, earnings have risen in every sector over the past twelve months, with seven sectors showing increases over 10%.  The big three winners in 2015 were:
Bricklaying: +16%
Plastering: +15%
Demolition: +14%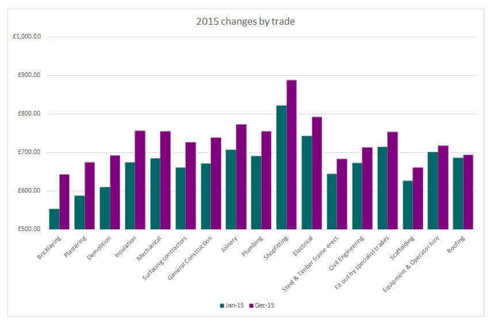 In terms of cash, shopfitting remains the highest-earning trade, with weekly average earnings approaching £900.  Electricians have also maintained their second place position, on almost £800 a week.  At the other end of the scale – and despite their hefty annual increase – bricklayers have ended the year on around £650, as have scaffolders.
Hudson Contract Managing Director Ian Anfield comments:  "It's been a long wait for better times in construction, so it's very satisfying to see how construction has prospered in 2015.  Increased workloads in both the public and private sectors mean our clients have every reason to feel extremely positive about the year ahead."