One inevitable consequence of construction's long recession is that the industry must now face up to a skills shortage in the years ahead. According to the latest reports in the trade press, we definitely don't have enough young bricklayers coming up through the ranks.
As many of you know, we've been doing our bit to support the future of our industry through the Hudson Contract Apprenticeship Sponsorship Scheme. We've been out and about this month, meeting three of our current batch of apprentices, and the extra-good news is that two of them are enrolled on bricklaying courses.
Charlie Green and Samuel Gadsby, both 18, are on their Level 2 Bricklaying course at East Riding College in Bridlington, and looking forward to establishing a career in construction. Although they work for different companies, both are currently helping to build a social housing development on the outskirts of Bridlington.
Charlie has been under the watchful eye of Philip Gray for about five months, and is grateful for the opportunity that has been given to him. "Working with Philip as part of my education is great for me," he declares. "I understand how important it is to have the key skills of English and Maths, and to understand the theory behind various construction techniques, but being able get out on site and learn on the job makes it all so real. And since this is a new housing development, Philip has been teaching me plenty of different skills."
Philip takes up the story. "For me it's great to see youngsters coming into the industry", he says. "Everyone knows there's already a shortage of good, skilled brickies, so it is great that – thanks to help from Hudson Contract – I can give this opportunity, to Charlie. I've been in the industry for thirty-five years, so it's a real pleasure to pass on my knowledge and my skills."
Samuel, meanwhile, has been building internal walls elsewhere on the site, supervised by his employer, Paul Gadsby – who also happens to be his father. Construction is definitely in the genes, because having already been employed as a teenage labourer on a few sites, Samuel decided to follow in his father's footsteps and go to college to learn bricklaying.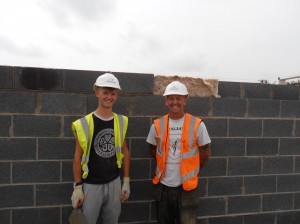 "I am really grateful for the sponsorship from Hudson Contract which allowed me to take Samuel on an apprentice," Paul says. "Construction is hands-on job and it can't be learned in a classroom environment. But College is also an essential part of the training. As an apprentice, Samuel is learning all the legislation requirements and continuing his education."
So what's it like working for your dad? Samuel says, "We have our arguments at times, but dad's knowledge of bricklaying is great and the experience of being on a busy housing development means I'm learning fast."
The third apprentice we visited this month, Kieran Dixon, 20, is completing his apprenticeship in Joinery and Carpentry with Britannia Windows, in Yorkshire.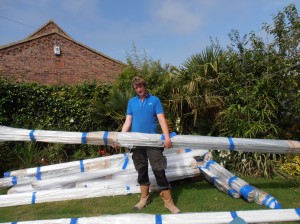 Kieran originally trained as a mechanic but switched to become a general labourer for Britannia. Proprietor Geoff Eccles says: "I had been looking for an apprentice as many of the projects we work on require two pairs of hands. When I approached the College and discovered the Hudson Contract Apprenticeship Sponsorship Scheme, it was a real pleasure to be able to offer the opportunity to Kieran."
Our sponsorship scheme will continue for the coming academic year, and businesses in Bridlington and Scarborough area are welcome to contact us for further details