The new academic year has started, and Hudson Contract will soon be welcoming a fresh batch of apprentices to our sponsorship scheme.  Meanwhile, how have some of last year's intake been getting on?
Seventeen-year-olds Matthew Houston and William Webb have now finished the first year of their Level 2 plumbing apprenticeship.
Matthew is employed by Jon Gregory of Scarborough-based Boilers Direct (Yorkshire) and while his ambition is to become a heating engineer, he understands he needs the grounding in plumbing first. "When I was younger I used to help my dad who was a caretaker, and enjoyed mending and fixing things,"  he says.  "So I knew I wanted a practical career, where I could be hands-on."
What is the best thing about being a plumbing apprentice?
"It's easier to learn when you're actually doing plumbing tasks. I'm also looking forward to learning more about heating.  That's more technical, so being able to see it in a real life situation is a huge help."
And the worst?
"All the small spaces you need to get into, especially as it's been really warm in peoples' lofts over the summer!"
Your advice to someone thinking about their career?
"Get into a trade, because your services will always be needed and you will also benefit when you get your house and can do work for yourself."
Boss Jon Gregory adds:  "Matthew is our first apprentice and it was a bit of a leap of faith, but the sponsorship from Hudson Contract took the pressure off us financially.  Looking back now,  I realise it's one of our best business decisions since we started the company.  It's great to be putting something back and investing in the future."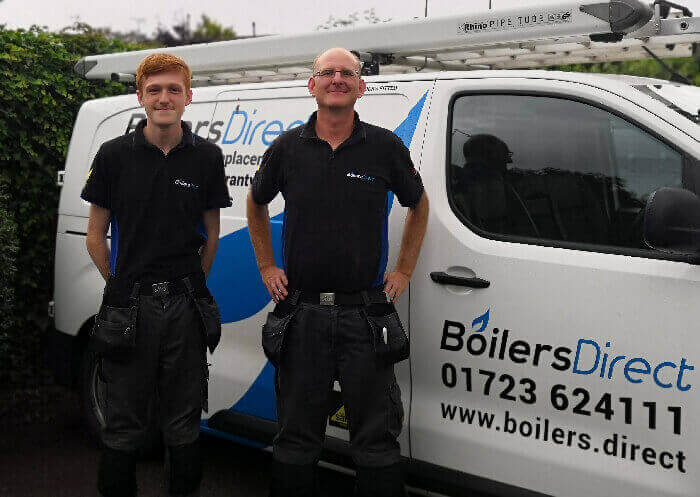 Our second apprentice, William, wanted to follow in his father's footsteps and get a trade so when work experience came up he opted for plumbing.  He quickly realised he'd made a good choice, and as he wanted to get into work he signed up to become an apprentice with Vince Robinson & Son, based in Bridlington.
What is the best thing about being a plumbing apprentice?
"I like to see the finished product, and after a year of working I can see the job satisfaction you get from making the customer happy."
And the worst?
"Early starts.  Although I'm gradually getting used to them!"
Your advice to someone thinking about their career?
"Choose something you enjoy and don't be frightened to try a few things before making a decision.  Work experience is a great way to narrow it down."
Employer Howard Robinson says:  "We don't charge out for apprentices much during their first year, so the support from Hudson Contract allows us to concentrate on training them up.  Apprentices are key to the future, and my advice for anyone looking to take one on is to go with your first impressions – the apprentice will represent your business and you want someone you and your customers will feel comfortable being around."