Britain's got the BAFTAs . . . . Hollywood's got the Oscars . . . but there was nothing La La Land about the Hudson Contract Apprentice Sponsorship Awards, which celebrated an array of Yorkshire construction apprentices and their real life talents.
"We were delighted to single out our four most promising newcomers," said Hudson Contract Chairman David Jackson.  "The eighty apprentices we've supported were invited to tell us what motivated them to join the construction industry, what they enjoy about their training and what advice they'd give to someone thinking of coming into the industry.
"We intended to give prizes to the top three, but the standard of entries was so high that we rewarded four youngsters with vouchers for West Building Supplies in Bridlington, so they can choose tools and clothing to help with their construction careers."
Meet the winners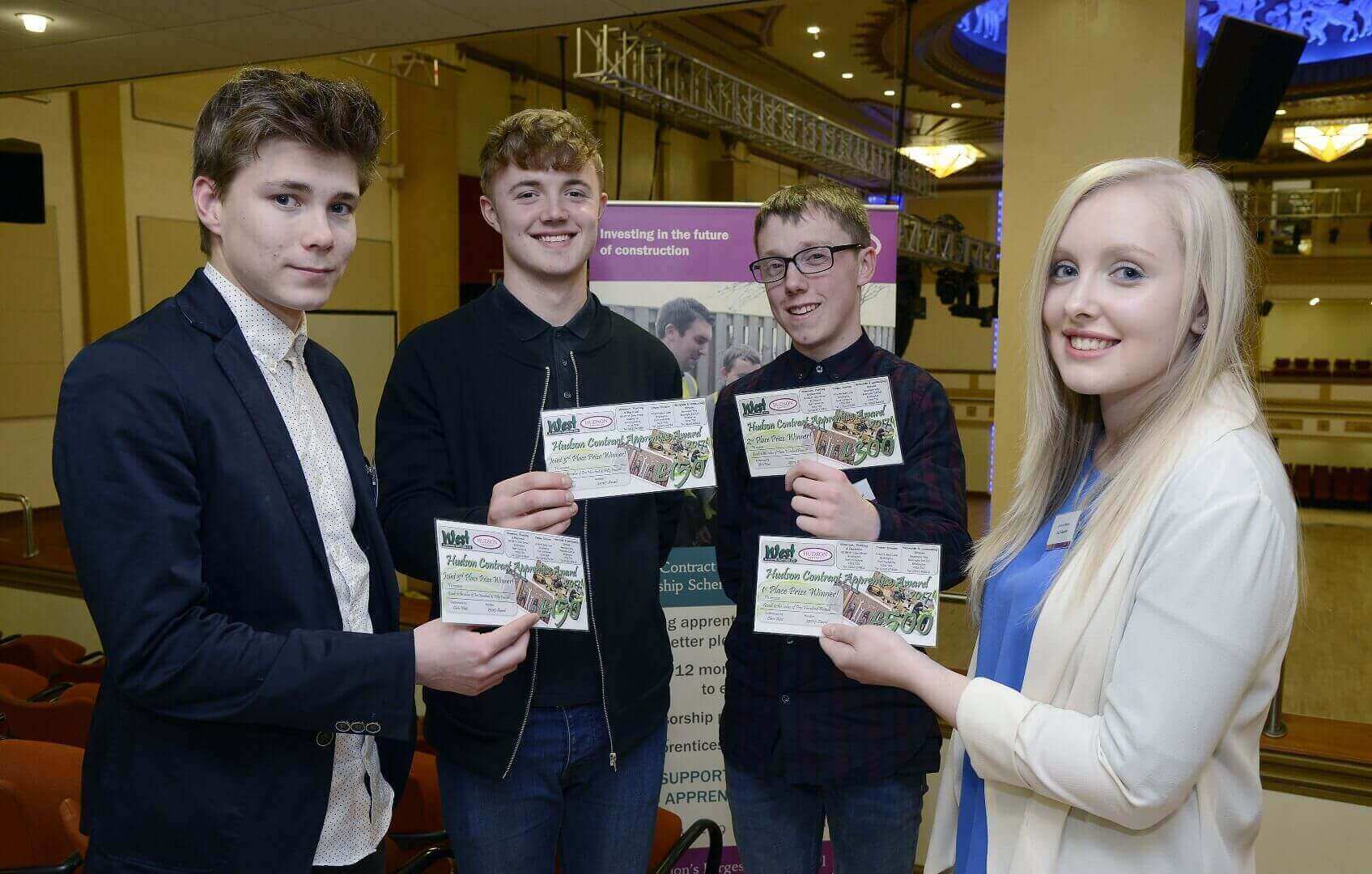 Danielle Sharpe, plumbing apprentice at Craig S Butcher, Scarborough
"At a school, I never imagined my future lay in plumbing!  I'd thought about construction, but my lack of knowledge of tools and the thought of embarrassing myself deterred me.  By my step-dad is a self-employed plumbing, heating and gas engineer and he motivated me to go for it and I've never looked back.  I feel like I'm moving from strength to strength and learning so much every day.
I still love my makeup and buying new clothes but I now spend a huge amount of time looking at tools and I know how to use them!
The best part about an apprenticeship is having the best of both worlds, going to work and gaining experience of the trade while also attending college and learning important requirements such as the legislation and legal requirements that lie behind everything that is done.
To anyone undecided about going into construction I would just say to go for it and take the plunge.  It really is rewarding."
Ben Dolan, electrical apprentice, Exley Smith Electrical, Scarborough
"When I had the chance of an apprenticeship, I grabbed it.  Everyone – family, friends, even myself – saw that I could be set up for life, because I'd be earning money on site whilst gaining important qualifications, while my mates were still full-time at college with no idea what they wanted to do with their lives.  I'd rather be assured with my future than be unclear.
Even during these first few months, I've learned so much about electrics and working on site.  It's one day a week at college to learn the scientific aspects of electrics and study for exams, accompanied by solid practical experience.
The construction industry image might not be the greatest, but once you get over that, the opportunity of an apprenticeship is too valuable to leave.  And I love it . . . even though the lads made me do the plaster bag challenge!"
Regan Hewitt, joinery & carpentry apprentice, Mandx Partners, Snainton
"I was motivated to join the building industry because I love making things and being creative.  I also really like a challenge.  The thing I enjoy the most about being an apprentice is seeing the final product after we have worked hard to achieve it.   One of my favourite jobs is kitchen fitting as you start from scratch and see a massive change. 
Meeting new people almost every week is good as it has improved my confidence a lot. I'm also gaining life skills which will stand me in good stead for the future as I'll have the skills to build or refurbish my own property.
I chose the apprentice route because you learn and earn whilst on the job combined with day release at college.   It's the best way to start out on your career without having to be in debt from tuition fees and living expenses!"
Jordan Forsdyke, electrical apprentice, General Electrical, Yorkshire
"I wanted to learn an essential trade where I was certain to gain skills I could use in my future day-to-day life.   I also had a desire to work with my hands.  My job is very important in the sense that I am trusted to install and test electrical appliances under the supervision of my employer – basically, the power is in my hands. Every day is a challenge in an apprenticeship, and I feel I learn something new and valuable every day.
I would strongly recommend this apprenticeship to anyone who's keen to learn a practical job from an experienced tradesman, alongside the support given by attending college on day release. You always feel supported and guided in the right direction by the professionals who take the time to teach you."