If you're a typical Hudson Contract client, you joined our 'family' because we were recommended by a colleague or family member in construction who was already happy to be doing business with us.
Realising how often this happens, we decided long ago that instead of shelling out on marketing, we would prefer to reward the people who help us gain new clients.
And so far this year, it has been our pleasure to pay out almost £28,000 in 'thank yous'. Here's what our Rewards winners have been choosing.
How would you spend yours?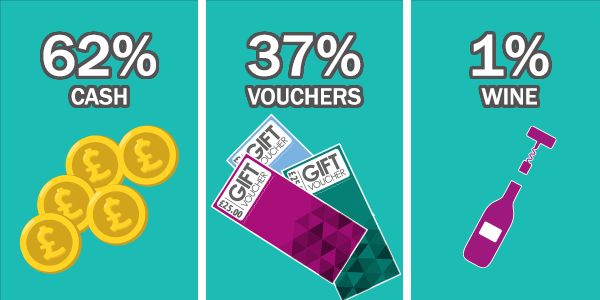 As you can see, cash is king this year, whereas in 2018, vouchers were preferred. And are our clients teetotal? Let's just say wine somehow always seems to pick up as we approach Christmas!
Hudson Contract Chairman David Jackson says: "It's great to know our service is held in such high regard that our clients, along with accountants and other business associates, are happy to refer us to their own contacts, friends and family. To do this means you trust us, and since trust is key in construction, and in keeping CIS compliant, we are honoured by the trust placed in us by every single client, week in, week out."
Referring is easy
All you have to do is complete the form below or phone us with the details of whoever you think can benefit from our service - it would be great if you can let them know you've passed their details on, so they're already expecting to hear from us.
Once they sign up, you'll earn £50 per subbie engaged by Hudson Contract as a result of your referral – paid after ten weeks of transacting, based on the average number of subbies per week. So if the firm you recommend has an average of ten subbies a week, you'll earn £500.
There's no limit to the number of times you can refer; your contacts just need to be with a firm that pays subbies under CIS.
Equally, there's no ceiling on Rewards – our largest individual payment this year is £3,720.
Ready to refer or want to know more?  Call now on 01262 401040