Client vote helps Hudson Contract donate £20,000 to charity
To celebrate Hudson Contract's twentieth year in business, we asked clients to decide how to share a £20,000 donation between four leading UK charities that are close to our hearts. 
We are delighted to report that the votes arrived in their thousands – thank you to everyone who took part –  and we can now reveal how each of the four charities will benefit: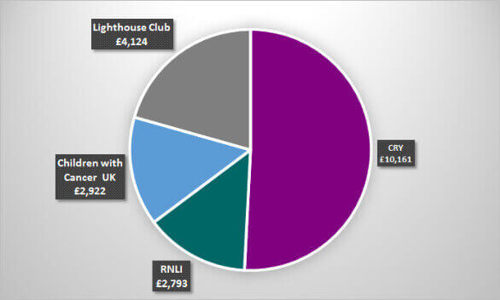 Cardiac Risk in the Young (CRY) £10,161
We chose CRY as a tribute to 15-year-old Josh Fell, who died suddenly and without warning five years ago, due to Sudden Arrhythmic Death Syndrome.  His father, Richard Fell, director at Brian Fell Leven Ltd, one of Hudson Contract's longest standing clients said:  "Josh was apparently fit and healthy and had no symptoms.  His death was due to an undiagnosed heart condition that kills at least 12 youngsters in the UK every week." 
CRY works to prevent young, sudden cardiac deaths through research, screening, diagnosis and awareness.  It also supports bereaved families.  Richard continues:  "CRY have been very supportive.  The charity is in its twenty-first year, and it operates a national screening programme that is funded by families like ours.   Since losing Josh, we have had six annual screenings for almost 1,200 people aged between 14 and 35.  At the most recent event, ten youngsters were found to be at risk and referred.
"My wife and I would like to than Hudson Contract and everyone who voted for this fantastic donation.  It will enable a further 290 people to come to our next heart screening event.  If Josh had been tested he might have been saved.  This is our way of helping other families and other youngsters."
Lighthouse Club  £4,124
The construction industry's own, official charity – which provides practical support to workers and their families at times of hardship and stress, following illness, accidents and death – is our runner-up.  The charity also offers advice on issues ranging from divorce to unemployment and the benefits system. 
Recent donations include £500 to enable a terminally ill heating engineer to have a final holiday, and £200-a-month for twelve months to help a self-employed builder injured at work.
A spokesperson says:  "Our charitable work has never been so relevant or so urgently needed.  This donation helps us do more, and we are grateful."
Children with Cancer UK £2,922
Children with Cancer UK is a charity that is very important to Hudson Contract, with a member of own team having first-hand experience of the charity and its work.
Every day, ten children in the UK are diagnosed with cancer.  Thanks to investment in research and treatment, survival rates are increasing.  Nevertheless, cancer is still the UK's biggest child killer.  Children with Cancer UK funds research, campaigns and helps families.
Royal National Lifeboat Institution (RNLI) £2,793
The RNLI is the charity that saves lives at sea, with its round-the-clock search and rescue operation around the coast of the UK.  Around the country, there are more than 4,600 volunteer lifeboat crew members, many of whom are self-employed and work in construction.
Last year's donations helped the RNLI save 400 lives . . . rescue 10,496 people . . . and educate almost 500,000 children about safety on the water.
Ian Anfield, Managing Director of Hudson Contract, comments: "A big thank you to everyone in the construction industry who pledged their vote and helped make this initiative such an overwhelming success for the four charities involved.
"Each good cause does fantastic work, and it's good to know these donations will help families and individuals all around the country."