When we started the Hudson Contract Rewards Scheme in 2009, we did so as an alternative to expensive marketing campaigns.  Our clients were recommending us to colleagues, and we thought saying 'thank you' for their vote of confidence was a more satisfying use of our budget than handing it over to advertising agencies. 
Since then, Rewards has gone from strength to strength.
In total, our clients have now earned over £350,000, and last year alone, we gave away over £32,000.  "Rewards is one of my favourite parts of the business," says Hudson Contract Founder and Chairman David Jackson.   "It's always a pleasure to make the payments, because word of mouth is our favourite way of gaining new business.  It means we are getting it right with our clients, and that's the most important thing of all."
Or as one recent Rewards recipient puts it:   "We are happy with the simplicity and ease of Hudson Contract's service.  And being established in the market, we trust you are going to be at the forefront of any changes, and here to fight on our behalf any issues that should arise."
We couldn't have put it better ourselves!
In  2017:
Our biggest individual Reward was £3,295 for the referral of a civil engineering firm
Virgin Vouchers have been claimed experience days, lunches and holidays
Gifting a Hudson Reward to charity is also a favourite, with cricket clubs, cancer charities and local causes all benefiting
Vouchers and cash are still the favourite choice, with almost 90% of recipients opting for one or the other
Which part of the country is most Rewarding?
Most of those who have earned a Reward are in the South-East, with Midlands coming second.  If you're in a different part of the country, there's plenty of scope to get earning in 2018!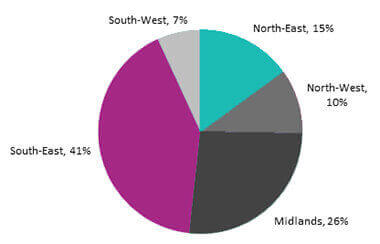 Claim your Reward now
It's simple!  Just fill in the form below or give us a call on 01262 401040.  When the firm you recommend starts transacting we'll drop you a line and you can start thinking about the Reward you'll enjoy most.
The value of your Reward is based on the average number of operatives over the first ten weeks, multiplied by £50 for each operative.   So ten operatives = £500.
"We love sending out the notifications," David Jackson adds.  "Most clients are pleasantly surprised to discover how much they've earned."