Carpenters and joiners require an eye for detail, a sense of precision and creative flair – three essential qualities that apprentices Jack Holt and Joe Lafbery possess in abundance.
Jack Holt has just completed the first year of his carpentry and joinery course at Scarborough TEC.
"After a brief spell as a retail assistant, followed by a year playing cricket in Australia, supported by labouring for local landscaping firms, I knew I wanted a career where I could stand back and say 'I made that!'" he explains.
Working in the family firm Mandx Partners could be seen as an easy route into the industry, but for Jack it has proved the way to combine his two passions – working with wood, and cricket.  "As part of the day-to-day work I've been building dormers and hanging doors.  And I helped make a mud kitchen for a school playground," he says.  "And because my older brother Rob and our other employee Regan have both been on the same apprenticeship, there's always someone extra to ask when I have questions about the coursework."
The skills Jack has learnt during this first year have enabled him to develop his hobby of making and repairing cricket bats. "To be able to make the bats, I've learned techniques and challenges that don't get taught at college – such as steaming wood," he says.  "And that's something I can use to help solve problems in my day job."
Jack's father and employer Andrew Holt adds:   "Making his own cricket bats has definitely helped Jack understand the different types of wood and their strengths and weaknesses, which in turn helps provide an even better service to our customers."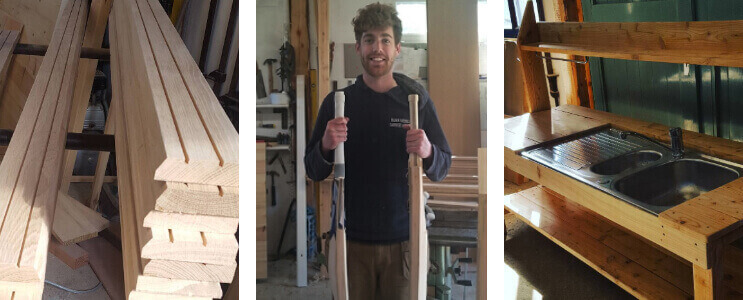 Joe Lafbery is one of the apprentices sponsored by Hudson Contract as part of last year's 20th Anniversary celebrations.  His passion for wood started when he made a jewellery box at school for his mum, who proudly said it was the best present she'd ever had!
After a summer job in a warehouse, Joe realised he liked the fact that he had money coming in and decided against becoming a full-time student. An opportunity with a local builder gave him a start in construction, but when he asked about becoming an apprentice carpenter, he was told that if he wanted to follow that path, he'd have to become an electrician.
"My heart just wasn't in it," Joe remembers.  "But then I got a chance with H&L Construction Solutions Ltd in Buckinghamshire, and the rest, as they say, is history."
Joe currently works closely with supervisor Josh, who also started out as an apprentice, which means he has support both at work and at college.   Josh says:  "It's so much easier when someone wants to be in the trade.  Electricity's loss is carpentry's gain!"
Pictured here on a site in Beaconsfield, Joe says: "Even though the end product of carpentry is often invisible, quality is key.  College shows me how to get the basics right and then I get to put it all into practice on site.  I love what I do."